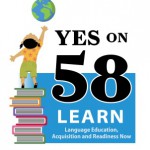 California Senator Ricardo Lara, the initiative's author, explains how voting 'yes' on Prop 58 will help students LEARN:

Growing up in a bilingual household with five brothers and sisters, the concepts of language learning and cultural identity have always been important to me. But when Prop 227 was passed, instead of being proud of the fact that we could speak more than one language, many of us were shamed into not speaking languages other than English in public places.
That's why I authored an initiative on the November ballot, Prop 58, Language Education Acquisition and Readiness Now (LEARN), to change this nearly 20-year-old law.
Under our current system, too many California students are being left behind and not given the opportunity to learn English or a second language with the most effective teaching methods possible. Substantial research shows that students learn languages in many different ways. Some students excel in language immersion programs while others do better learning in multiple languages.  
Yet, the California Department of Education reports that of the 10,393 schools in California, only 312 offer multilingual programs. This shortchanges all California students who want the opportunity to learn English and a second language.
That's why Prop 58 amends Prop 227 to give school districts, parents and teachers the power to decide how best to teach English and other languages. The fact is that when it comes to teaching, one size does not fit all, and no politician should limit our kids' ability to learn language with the method that works best for them.
We know that students with a strong proficiency in English who also speak other languages are better prepared to compete in the global workforce. But while 66% of people around the globe speak more than one language; only 20% of people in the United States speak multiple languages.
Please join me in opening the door to student learning and help me pass Prop 58 in November!