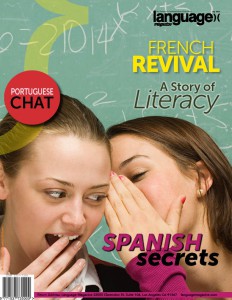 Spanish Focus:

America's Lingua Franca? Could Spanish become the language of choice throughout the Americas?
Learning with Purpose Kristal Bivona looks at teaching specialized Spanish programs.
Study Travel Costa Rica & Guatemala
Why French? Kathy Stein-Smith explains why demand is growing for French the world over.
A Whole Lot of Axolotls Paula Cuello & Lori Langer de Ramirez explore environmental studies in the Spanish classroom.
A Literacy Autobiography Yew Hock Yeo, Phyllis Ghim-Lian Chow, and Stephen Krashen share a tale worth reading.
Teaching Sin Fronteras How a Spanish teacher's quest to help his students led to the creation of an international publishing company.