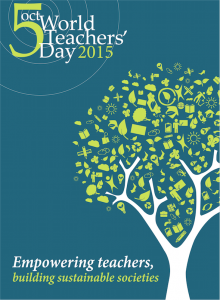 UNESCO is celebrating World Teachers' Day (WTD) on October 5 by highlighting the importance of empowering teachers to achieve inclusive and sustainable global development.
This year World Teachers' Day highlights the need to empower all teachers through the provision of decent, safe, and healthy working conditions, trust, professional autonomy, and academic freedom.
Worldwide there is a growing shortage of quality teachers and inadequate professional training. The UNESCO Institute for Statistics estimates that to achieve universal primary education by 2020 countries will need to recruit a total of 10.9 million primary teachers.
All these factors result in equity gaps in access and learning which mostly affect the poorest regions and schools and the earliest grades. This is particularly damaging, as there is clear evidence that the earliest years of a child's development are the most critical.
October 5th, 2015 | 1 Comment
Tags:
globaled
,
teachersmatter
,
worldteachersday